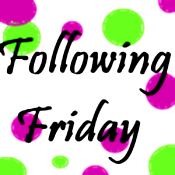 Why don't you join in too?
1. Link up your blog URL on Mr Linky.
2.
Follow the Hostesses
( and leave a comment so they can follow you back).
3. Grab The Following Friday button and paste it somewhere on your blog or in a post.
4. Follow as many blogs as you like and when they follow you, follow them back. (leave a comment on their blog so they can follow you back)
If you decide to follow my blog, please leave a comment, as well as your link so that I can follow your blog as well!